Resources: Juneteenth
Minnesota Public Radio (Audio)
Why Juneteenth Matters

https://www.mprnews.org/story/2019/06/20/why-juneteenth-matters

PBS – The African Americans: Many Rivers to Cross with Henry Louis Gates, Jr (Blog)
"What Is Juneteenth?" by Henry Louis Gates, Jr.

https://www.pbs.org/wnet/african-americans-many-rivers-to-cross/history/what-is-juneteenth/

Smithsonian National Museum of African American History & Culture (Blog-Video)
Blog about celebrating Juneteenth accompanied by a video tour through the Slavery and Freedom exhibition
Book
Juneteenth by Ralph Ellison
Book
Barracoon: The Story of the Last "Black Cargo" by Zora Neale Hurston
Book
From Slavery To Freedom: A History of African Americans by John Hope Franklin
Book
Systemic Racism: A Theory of Oppression by Joe R. Feagin
Book
Stony the Road: Reconstruction, White Supremacy and the Rise of Jim Crow by Henry Louis Gates, Jr.
Book
Race, Class and Gender in the United States: An Integrated Study by Paula S. Rothenberg (ed.)
Book
The Collected Poems of Langston Hughes by Langston Hughes
Book
Thirteen Ways of Looking at a Black Man by Henry Louis Gates, Jr.
Book
How To Be an Antiracist by Ibram X. Kendi
Book
Everyday Anti-Racism: Getting Real about Race in School by Mica Pollock (ed.)
Book
Why Are All the Black Kids Sitting Together in the Cafeteria and Other Conversations about Race by Beverly Tatum
Book
Just Mercy: A Story of Justice and Redemption by Bryan Stevenson
Book
They Can't Kill Us All: Ferguson, Baltimore, and a New Era in America's Racial Justice Movement by Wesley Lowry
Book
Becoming by Michelle Obama
Book
The Underground Railroad by Colson Whitehead
Book
The Hate U Give by Angie Thomas

Children's book

The Story of Juneteenth: An Interactive History Adventure by Steven Otfinoski (choose-your-own adventure style book)

Children's book

Let's Celebrate Emancipation Day & Juneteenth by Barbara deRubertis

Children's book

Juneteenth Jamboree by Carole Boston Weatherford (picture book)

Children's book

Freedom's Gifts: A Juneteenth Story by Valerie Wilson Wesley (picture book)

Children's book

Juneteenth for Mazie by Floyd Cooper (picture book)

Children's book

Juneteenth by Rachel Koestler-Grack (for early elementary school readers)

Children's book

All Different Now: Juneteenth, the First Day of Freedom by Angela Johnson (picture book)
Smithsonian National Museum of African American History & Culture
Free online event: Juneteenth: A Celebration Of Resilience

https://nmaahc.si.edu/event/juneteenth-celebration-resilience

Museum of Fine Arts Boston
Free online event: Juneteenth
The Atlantic
"Being Black in America Can Be Hazardous to Your Health" by Olga Khazan, July 2018

https://www.theatlantic.com/magazine/archive/2018/07/being-black-in-america-can-be-hazardous-to-your-health/561740/?utmsource=newsletter&utmmedium=email&utmcampaign=atlantic-weekly-newsletter&utmcontent=20180615&silverid-ref=MzEwMTkwMjYxNTUxS0

Los Angeles Times
"Don't Understand the Protests? What You're Seeing Is People Pushed to the Edge" by Kareem Abdul-Jabbar, May 30, 2020

https://www.latimes.com/opinion/story/2020-05-30/dont-understand-the-protests-what-youre-seeing-is-people-pushed-to-the-edge

The New Yorker
"How Do We Change America? The quest to transform this country cannot be limited to challenging its brutal police" by Keeanga-Yamahtta Taylor, June 8, 2020

The Washington Post

"The Moment Cries Out for Us To Confront Race in America" by Condoleezza Rice, June 4, 2020

https://www.washingtonpost.com/opinions/2020/06/04/condoleezza-rice-moment-confront-race-america/

The New York Times Magazine

"1619 Project"

https://www.nytimes.com/interactive/2019/08/14/magazine/1619-america-slavery.html

The Boston Globe

"Boston. Racism, Image, Reality" by The Boston Globe Spotlight Team, December 2017

https://apps.bostonglobe.com/spotlight/boston-racism-image-reality/

Teacher's Guide for Juneteenth Jamboree

https://www.leeandlow.com/books/juneteenth-jamboree/teachers_guide

Teaching Tolerance (Teacher's Guide)

Teaching Juneteenth

Austin PBS (Video)

"Juneteenth Jamboree" – a series of vignettes told by Texans

http://www.pbs.org/black-culture/shows/list/juneteenth-jamboree/
Resources and Other Suggested Readings
This year's main book selection, Fahrenheit 451 by Ray Bradbury, depicts a dystopian society characterized by alienation and disconnection where books are banned and independent thinking is discouraged, replaced by mindless media consumption and bland entertainment. Below is a list of related media resources including podcasts, article links, additional books, discussion guides, and other resources to enrich your experience of the novel and deepen conversation within our community.
This guide prepared by the NEA Big Reads provides an Overview, Summary, Literary Allusions, About the Author, & Discussion Questions.

This audio guide about the classic science fction novel Fahrenheit 451 by Ray Bradbury is narrated by Dana Gioia and features Ray Bradbury, Orson Scott Card, John Crowley, Paquito D'Rivera, Hector Elizondo, Nat Hentoff, Ursula K. Le Guin, Azar Nafisi, Luis Alberto Urrea, and Sam Weller.
Description from the NEA Big Read: Ray Bradbury's Fahrenheit 451 remains one of the most iconic works in American Literature. At home with his cats and collectables, Mr. Bradbury talks about how the book came into being and what has sustained his extraordinary career.
Podcasts (Available wherever you get your podcasts)
Malden Reads Fahrenheit 451
A companion podcast for the 2020 NEA Big Read in Malden, MA. Host & producer Anne D'Urso-Rose speaks with community members and special guests to discuss the novel "Fahrenheit 451" by Ray Bradbury and its relevance in our society today.
Imaginary Worlds Episode #95: Fahrenheit 451 Still Burns
The writer Neil Gaiman first became entranced with Fahrenheit 451 as a kid, but he says the novel is the kind of masterpiece that seems like a different story every time you read it depending on where you are in life, or in history. I also talk with novelist Alice Hoffman and various Ray Bradbury scholars about why a book written in the McCarthy era still has a lot to say in the age of "fake news." And we hear from students at a high school in Texas about how Fahrenheit 451 reflects their own struggles fighting hate speech while honoring freedom of speech.
Overdue: Episode #274 – Fahrenheit 451
Overdue is "a podcast about the books you've been meaning to read." From the website – Our "November" bonus episode, the final entry in "stuff we've read month," is Ray Bradbury's old high school lit class standby Fahrenheit 451. Needless to say, it's hitting us differently now than it did when we originally read it.
How to Love Lit: Fahrenheit 451 (5 episodes) 
Meet Christy and Garry Shriver, high school teacher and a husband and wife team. With 48 years of combined experience teaching ESL, English Language, English Literature, Psychology, History, Government and Economics on three continents in both public and private schools, in both Advanced Placement and International Baccalaureate programs and Nationally Board Certified, the Shrivers take to the airwaves. Ray Bradbury's classic "Fahrenheit 451" is explored in detail through five episodes of their podcast. (Search the Episodes link.)
Online Articles on Privacy & Surveillance in Current Times
The Atlantic
Google's Totally Creepy, Totally Legal Health-Data Harvesting

ACLU of Massachusetts
Privacy and Surveillance

Facial Recognition software and its inaccuracies and manipulation

The Boston Globe and Boston.com
Colleges are turning students' phones into surveillance machines, tracking the locations of hundreds of thousands
Survey says: Many Americans love their fake news
For TikTok, the clock is ticking. Why not for Facebook, Google, and Twitter?
Washington Post
The Cybersecurity 202: Trump administration scooping up Americans' data in effort to track undocumented immigrants, ACLU says

Federal study confirms racial bias of many facial-recognition systems, casts doubt on their expanding use


Electronic Frontier Foundation
Street-Level Surveillance: Acoustic Gunshot Detection (used to spy on people having conversations)
Google's SensorVault Surveillance Program
Nonfiction Books -Adult and Young Adult
The Bradbury Chronicles: The Life of Ray Bradbury (2005 and reprinted 2006) by Sam Weller, the authorized biographer of Ray Bradbury and participant in this year's program on April 2, 2020. A national bestseller and winner of the 2005 Society of Midland Authors Award for Best Biography his biography provides rich background about Ray Bradbury and his creative journey. Weller draws from private archives, extensive interviews with Ray Bradbury and Bradbury's friends, family, and editors to tell a nuanced story about this significant author's mind, spirit, and accomplishments.
Listen to the Echoes: The Ray Bradbury Interviews (2010), by Sam Weller, published by Melville House/Stop Smiling Books. A definitive collection of interviews covering Ray Bradbury's life, faith, friends, politics, and visions of the future.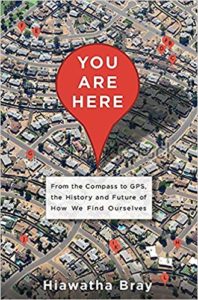 You Are Here: From the Compass to GPS, the History and Future of How We Find Ourselves. (2014) by Boston Globe columnist and reporter Hiawatha Bray, also participant in our 2020 program, April 2. The story of the rise of modern navigation technology from radio location to GPS and the ultimate impact of this technological progression on privacy.
Sharenthood: Why We Should Think Before We Talk About Our Kids Online by Leah A. Plunkett
"Our children's first digital footprints are made before they can walk—even before they are born—as parents use fertility apps to aid conception, post ultrasound images, and share their baby's hospital mug shot. Then, in rapid succession come terabytes of baby pictures stored in the cloud, digital baby monitors with built-in artificial intelligence, and real-time updates from daycare. When school starts, there are cafeteria cards that catalog food purchases, bus passes that track when kids are on and off the bus, electronic health records in the nurse's office, and a school surveillance system that has eyes everywhere. Unwittingly, parents, teachers, and other trusted adults are compiling digital dossiers for children that could be available to everyone—friends, employers, law enforcement—forever. In this incisive book, Leah Plunkett examines the implications of "sharenthood"—adults' excessive digital sharing of children's data. She outlines the mistakes adults make with kids' private information, the risks that result, and the legal system that enables "sharenting." (MIT Press)
Syria's Secret Library: Reading and Redemption in a Town Under Siege by Mike Thompson
BBC correspondent Thompson reports on an underground library in the town of Daraya, Syria, a suburb of Damascus. Daraya was isolated, besieged and bombarded by the Assad regime beginning in 2012. Thousands of books were salvaged from bombed-out buildings, private libraries, and council offices, at great personal risk to the former university students who set up the underground library. The library was created as a safe shelter for residents to gather and read. In the summer of 2016 the siege ended and the remaining residents were forcibly relocated to refugee camps.
Fiction Books – Adult and Young Adult
It Can't Happen Here by Sinclair Lewis
It Can't Happen Here is the only one of Sinclair Lewis's later novels to match the power of Main Street, Babbitt, and Arrowsmith. A cautionary tale about the fragility of democracy, it is an alarming, eerily timeless look at how fascism could take hold in America. Written during the Great Depression, when the country was largely oblivious to Hitler's aggression, it juxtaposes sharp political satire with the chillingly realistic rise of a president who becomes a dictator to save the nation from welfare cheats, sex, crime, and a liberal press. Called "a message to thinking Americans" by the Springfield Republican when it was published in 1935, It Can't Happen Here is a shockingly prescient novel that remains as fresh and contemporary as today's news." (Penguin Random House)

The Circle by Dave Eggers
This dystopian novel examines privacy, surveillance, and the intrusion of technology through the story of tech worker Mae Holland, who is hired by The Circle, the world's most powerful Internet company. The Circle has linked users' personal emails, social media, banking and purchasing through TruYou user interfaces. Mae's initially rewarding experience at her dream job turns darker as she agrees to "go transparent," wearing a SeeChange camera at all times, streaming her life to millions of viewers. Slogans in the book include "All that happens must be known," "Secrets are lies," "Privacy is theft" and "Sharing is caring."
The Man in the High Castle by Philip Dick (1962)
Philip Dick's classic what-if World War II novel in which the United States loses the war and is  occupied by German and Japanese forces won a Hugo Award in 1962. Set 15 years after the end of the Second World War, The Man in the High Castle depicts a continental United States carved up between Germany and Japan, with a neutral zone in between. Dick's characters live in a world that is all too believable, especially in 2020.
The Orphan Master's Son by Adam Johnson
"The Pulitzer Prize–winning, New York Times bestselling novel of North Korea: an epic journey into the heart of the world's most mysterious dictatorship.
Pak Jun Do is the haunted son of a lost mother—a singer "stolen" to Pyongyang—and an influential father who runs a work camp for orphans. Superiors in the North Korean state soon recognize the boy's loyalty and keen instincts. Considering himself "a humble citizen of the greatest nation in the world," Jun Do rises in the ranks. He becomes a professional kidnapper who must navigate the shifting rules, arbitrary violence, and baffling demands of his overlords in order to stay alive. Driven to the absolute limit of what any human being could endure, he boldly takes on the treacherous role of rival to Kim Jong Il in an attempt to save the woman he loves, Sun Moon, a legendary actress "so pure, she didn't know what starving people looked like." (Penguin Random House)
The Pedestrian (short story) by Ray Bradbury
In 1951 Ray Bradbury published a short story about a future society in 2053, in which television dominates lives, no one reads, and a nonconformist man, a writer, is arrested for walking and taken to the Psychiatric Center for Research on Regressive Tendencies.
Available in A Medicine for Melancholy and Other Stories and Bradbury Stories: 100 of His Most Celebrated Tales.
QualityLand by Marc-Uwe King
QualityLand, a hypercapitalist dystopia, is the best country on Earth. Here, each person is named after their parents' profession, and a universal ranking system determines the social advantages and career opportunities of every member of society. An automated matchmaking service, "QualityPartner," knows the best partners for everyone. The foolproof algorithms of the biggest, most successful company in the world, TheShop, know what you want before you do and conveniently deliver to your doorstep before you even order it. What happens when metal recycling scrapper Peter Jobless tries to return a delivery he did not order and does not want. Peter's journey takes place during a presidential election, where voters can choose between a maximally intelligent, socialist-minded android programmed for objectivity, and a celebrity right-wing chef, prone to contradicting himself in the same sentence.
The Warehouse: A Novel by Rob Hart
This novel takes place in a dystopian America, at Cloud, the largest company in the world, employing 30 million people. Workers live at "MotherCloud" facilities, live-work fulfillment centers where packages are sent out by same-day delivery drones, thanks to Cloud's takeover of the FAA from the federal government. All Cloud residents must wear "CloudBands," which monitor and choreograph their every movement and their work performance. Workers whose ratings have dropped are evicted from Cloud on "Cut Day." The book follows Paxton, who came to work at Cloud after Cloud destroyed his livelihood; Zinnia, a corporate spy; and company founder Gordon Wells.
Additional Companion Books
1984 by George Orwell (Grades 8 and up)
"One of the most celebrated classics of the twentieth century, Orwell's cautionary tale of a man trapped under the gaze of an authoritarian state feels more relevant now than ever before.  Winston Smith, a member of the outer Party, spends his days rewriting history to fit the narrative that his government wants citizens to believe. But as the gap between the propaganda he writes and the reality he lives proves too much for Winston to swallow, he begins to seek some form of escape. His desperate struggle to free himself from an all-encompassing, tyrannical state illuminates the tendencies apparent in every modern society, and makes vivid the universal predicament of the individual." (Penguin Random House)
Brave New World by Aldous Huxley (Grades 8 and up)
"Ranked one of the 100 best English-language novels of the 20th century, this dystopian satire is a brilliant and terrifying vision of a soulless society—and of one man who discovers the human costs of mindless conformity. Aldous Huxley's ingenious fantasy of a future of mechanical efficiency and engineered harmony has been enormously influential for generations, and is as provocative, powerful, and riveting as when it was first published in 1932." (Penguin Random House)
Ray Bradbury's Fahrenheit 451: The Authorized Adaptation by Tim Hamilton (graphic novel) (Grades 10 and up)
Ray Bradbury's Fahrenheit 451: The Authorized Adaptation by Tim Hamilton (Graphic Novel)
"In 1953, Ray Bradbury envisioned one of the world's most unforgettable dystopian futures, and in Ray Bradbury's Fahrenheit 451, the artist Tim Hamilton translates this frightening modern masterpiece into a gorgeously imagined graphic novel. As could only occur with Bradbury's full cooperation in this authorized adaptation, Hamilton has created a striking work of art that uniquely captures Montag's awakening to the evil of government-controlled thought and the inestimable value of philosophy, theology, and literature. Including an original foreword by Ray Bradbury and fully depicting the brilliance and force of his canonic and beloved masterwork, Ray Bradbury's Fahrenheit 451 is an exceptional, haunting work of graphic literature." (Macmillan)
All Rights Reserved by Gregory Scott Katsoulis (Grades 8–12)
"In a world where every word and gesture is copyrighted, patented or trademarked, one girl elects to remain silent rather than pay to speak, and her defiant and unexpected silence threatens to unravel the very fabric of society. Speth Jime is anxious to deliver her Last Day speech and celebrate her transition into adulthood. The moment she turns fifteen, Speth must pay for every word she speaks ("Sorry" is a flat ten dollars and a legal admission of guilt), for every nod ($0.99/sec), for every scream ($0.99/sec) and even every gesture of affection. She's been raised to know the consequences of falling into debt, and can't begin to imagine the pain of having her eyes shocked for speaking words that she's unable to afford." (Harlequin)
Americus by MK Reed and Jonathan Hill (Grades 8–12)
When local Christian activists are trying to get Neal's favorite fantasy series banned from the Americus public library on grounds of immoral content and heresy, quiet & shy Neal along with youth services librarian Charlotte Murphy finds themselves leading the charge to defend the mega-bestselling fantasy series.
Feed by M T Anderson (Grades 8–12)
In a future world where internet connections feed directly into the consumer's brain, thought is supplemented by advertising banners, and language has gone into a steep decline, a little love story unfolds. Titus, an average kid on a weekend trip to the moon, meets Violet, a brainy girl who has decided to try to fight the feed. Assaulted by a hacker who interrupts their connection, they struggle to understand what has happened to them – and to everyone around them. In his National Book Award Finalist Feed, M. T. Anderson has created a not-so-brave new world – and a smart, savage satire that has captivated readers with its view of an imagined future that veers unnervingly close to the here and now.
The Librarian of Auschwitz by Antonio Iturbe (Grades 8 and up)
"Based on the experience of real-life Auschwitz prisoner Dita Kraus, this is the incredible story of a girl who risked her life to keep the magic of books alive during the Holocaust. Fourteen-year-old Dita is one of the many imprisoned by the Nazis at Auschwitz. Taken, along with her mother and father, from the Terezín ghetto in Prague, Dita is adjusting to the constant terror that is life in the camp. When Jewish leader Freddy Hirsch asks Dita to take charge of the eight precious volumes the prisoners have managed to sneak past the guards, she agrees. And so Dita becomes the librarian of Auschwitz. Out of one of the darkest chapters of human history comes this extraordinary story of courage and hope."  (Macmillan).
The Giver by Lois Lowry (Grades 7–12)
"The Giver, Lois Lowry's Newbery Medal–winning novel, has become one of the most influential books of our time. Placed on countless reading lists and curricula, translated into more than forty languages, and made into a feature film, The Giver is a modern classic. The haunting story of twelve-year-old Jonas, who lives in a seemingly ideal, if colorless, world of conformity, is as resonant today as when it was first published," (HMH Books)
The Year They Burned the Books by Nancy Garden (Grades 7 and up)
The Year They Burned the Books is an unflinching novel about prejudice, censorship, and homophobia in a New England town. As the editor in chief of the Wilson High Telegraph, senior Jamie Crawford is supposed to weigh in on the cutting-edge issues that will interest students in her school. But when she writes an opinion piece in support of the new health curriculum—which includes safe-sex education and making condoms available to students—she has no idea how much of a controversy she's stepped into. A conservative school board member has started a war against the new curriculum, and now—thanks to Jamie's editorial—against the newspaper as well. As Jamie deals with the fallout and comes to terms with her own sexuality, the school and town become a battleground for clashing opinions. Now, Jamie and the students at Wilson need to find another way to express their beliefs before prejudice, homophobia, and violence define their small town.
The Inquisitor's Tale: Or, The Three Magical Children and Their Holy Dog by Adam Gidwitz (Grades 5–8)
"1242. On a dark night, travelers from across France cross paths at an inn and begin to tell stories of three children. Their adventures take them on a chase through France: they are taken captive by knights, sit alongside a king, and save the land from a farting dragon. On the run to escape prejudice and persecution and save precious and holy texts from being burned, their quest drives them forward to a final showdown at Mont Saint-Michel, where all will come to question if these children can perform the miracles of saints. " (Penguin Random House)
The Landry News by Andrew Clements (Grades 4–6)
Focuses on the First Amendment and Freedom of Speech. It shows the responsibility a journalist, even a student journalist, has when writing about an individual and the possible effects it may have on a person's life.)
Property of the Rebel Librarian by Allison Varnes (Grades 4–7)
When 12-year old June Harper's parents discover what they deem an inappropriate library book, they take strict parenting to a whole new level. And everything June loves about her middle school unravels: Librarian Ms. Bradshaw is suspended, an author appearance is canceled, the library is gutted, and all books on the premises must have administrative approval.  June starts running an underground library filled with books from fellow students and from the town's Little Free Library.
The Tiny Hero of Ferny Creek Library by Linda Bailey (Grades 3–7)
"Eddie, a passionate reader and a shiny green bug, saves the school library in this funny, heartwarming tale that fans of Flora & Ulysses and Charlotte's Web will love. Includes black-and-white illustrations throughout from Newbery Honor Medalist and New York Times-bestselling author-artist Victoria Jamieson." (Harper Collins)
Mr. Tiger Goes Wild by Peter Brown (Grade 2)
"Are you bored with being sensible? Do you want to have more fun? Mr. Tiger knows exactly how you feel. Fed up with tea parties, top hats and talking about the weather, he astounds his friends when he decides to go… WILD. But does he go too far? After all, the wilderness can get pretty lonely. Mr Tiger Goes Wild is a beautifully illustrated and brilliantly funny book from Caldecott Honor-winning artist Peter Brown that shows that there's a time and place for everything… even going wild" (Pan Macmillan). Winner of the 2014 Boston Globe Horn Book Award for Picture Books. Preschool – Grade 2.
Day of the Dragon King by Mary Pope Osborne (Grades 1–4)
"Who would burn books? Jack and Annie find out when the Magic Tree House whisks them back to ancient China. There, a powerful emperor called the Dragon King has ordered that all books be burned. Will Jack and Annie be able to save at least one book? Or will they be captured by the emperor's soldiers?" (Penguin Random House)
I am Henry Finch by Alexis Deacon (Grades K–2)
"Bravery plays out in surprising ways when a little finch starts having big thoughts.
The finches live in a big flock that makes such a racket nobody can hear themselves think. But one day a small bird wakes up in quiet darkness and has a thought, and he hears it: I am Henry Finch. . . . I could be great. The next day, the Beast comes, and Henry sees his chance—but then a mouth opens wide, and the path to greatness turns out to have some unexpected twists. Delightful illustrations pair with a quirky, funny, and uplifting story for budding philosophers of all ages." (Penguin Random House)
Library Lion by Michelle Knudsen (Grades K–3)
"An affectionate storybook tribute to that truly wonderful place: the library. Miss Merriweather, the head librarian, is very particular about rules in the library. No running allowed. And you must be quiet. But when a lion comes to the library one day, no one is sure what to do. There aren't any rules about lions in the library. And, as it turns out, this lion seems very well suited to library visiting. His big feet are quiet on the library floor. He makes a comfy backrest for the children at story hour. And he never roars in the library, at least not anymore. But when something terrible happens, the lion quickly comes to the rescue in the only way he knows how." Michelle Knudsen's disarming story, illustrated by the matchless Kevin Hawkes in an expressive timeless style, will win over even the most ardent of rule keepers. (Scholastic)
Say Something! by Peter H. Reynolds (Grades PreK–2)
"The world needs your voice. If you have a brilliant idea… say something! If you see an injustice… say something! In this empowering new picture book, beloved author Peter H. Reynolds explores the many ways that a single voice can make a difference. Each of us, each and every day, have the chance to say something: with our actions, our words, and our voices. Perfect for kid activists everywhere, this timely story reminds readers of the undeniable importance and power of their voice. There are so many ways to tell the world who you are… what you are thinking… and what you believe. And how you'll make it better. The time is now: SAY SOMETHING!" (Scholastic)
Wild About Books by Judy Sierra and Marc Brown (Grades PreK–2)
Winner of the E.B. White Read Aloud Award
"It started the summer of 2002, when the Springfield librarian, Molly McGrew, by mistake drove her bookmobile into the zoo. In this rollicking rhymed story, Molly introduces birds and beasts to this new something called reading. She finds the perfect book for every animal—tall books for giraffes, tiny ones for crickets. "She even found waterproof books for the otter, who never went swimming without Harry Potter." In no time at all, Molly has them "forsaking their niches, their nests, and their nooks," going "wild, simply wild, about wonderful books." Judy Sierra's funny animal tale coupled with Marc Brown's lush, fanciful paintings will have the same effect on young Homo sapiens. Altogether, it's more fun than a barrel of monkeys!" (Penguin Random House)
The Story of Ferdinand by Munro Leaf (Grades PreK–K)
"All the other bulls run, jump, and butt their heads together in fights. Ferdinand, on the other hand, would rather sit and smell the flowers. So what will happen when Ferdinand is picked for the bullfights in Madrid?
The Story of Ferdinand has inspired, enchanted, and provoked readers ever since it was first published in 1936 for its message of nonviolence and pacifism. In WWII times, Adolf Hitler ordered the book burned in Nazi Germany, while Joseph Stalin, the leader of the Soviet Union, granted it privileged status as the only non-communist children's book allowed in Poland."  (Penguin Random House)