Malden Reads is pleased to announce the selection of companion books for young readers, all of which complement the themes of the 2022 main book selection, An American Sunrise by U.S. Poet Laureate Joy Harjo. These books were chosen by a group of educators, librarians, and other individuals in the community offering their support and input.
Relating to An American Sunrise, through these companion books, we will explore themes related to Indigenous cultures, the environment, and poetry.
Malden Reads is providing the books listed below to the Malden Public Schools at no charge, and will provide resource materials for teachers, school librarians, and literacy coaches. All Malden Reads book selections will be available at the Malden Public Library for Malden families to borrow.
A selection of these books will also be available for purchase at the Winter Festival kickoff on December 4, and afterwards, at The Gallery@57 on Pleasant Street in Malden, where a portion of the proceeds will benefit Malden Reads.
Non-profit organizations that are interested in receiving a small amount of these book selections for use with children should email maldenreads@gmail.com.
Here are the titles and descriptions for the companion books, along with suggested grade levels (which can be adapted based on level of interest and reading level).
MIDDLE SCHOOL AND

HIGH SCHOO

L
Elatsoe by Darcie Little Badger
(Suggested for grades 7–12)

Named TIME's Best 100 Fantasy Books of All Time, an NPR Best Book of 2020, and multiple other awards. Kirkus Reviews says this "fast-paced whodunit set in a contemporary world like our own, this is a creative fusion of Indigenous cultural influences and supernatural fantasy. A brilliant, engaging debut written by a talented author… This groundbreaking introduction to the fantasy genre remains relevant to Native histories even as it imaginatively looks to the future."
Out of the Dust by Karen Hesse
(Suggested for grades 7–12)

Winner of the Newbery Medal, the Scott O'Dell Award, and multiple other awards. Booklist says "Hesse's writing transcends the gloom and transforms it into a powerfully compelling tale of a girl with enormous strength, courage and love."
ELEMENTARY SCHOOL AND MIDDLE SCHOOL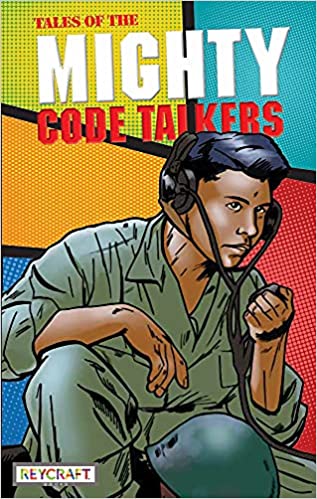 Tales of the Mighty Code Talkers by Lee Francis IV, Roy Boney, Jr., Arigon Starr, Jonathan Nelson, Renee Nejo Lee Francis III
(Suggested for grades 4–7)

Based on the true stories of the Native American heroes who served in World War I through the Korean War, this graphic novel tells the stories of the Native American code talkers written by Native Americans.
We Are Still Here!: Native American Truths Everyone Should Know
by Traci Sorell
(Suggested for grades 2–5)

Kirkus Reviews states "What has happened to Native Nations and their citizens after the treaties with the U.S. government ended in 1871?…Indigenous people say, "We are still here!" and the narrative arc turns to emphasize resilience."
The People Shall Continue by Simon Ortiz
(Suggested for grades 4–5)

Author Joseph Bruchac states "Simon Ortiz has long been regarded as a major poetic voice. He brings that voice to bear, along with a deep understanding of the beauty and endurance of Native American cultures, in The People Shall Continue. It is a book that should be in every grade-school library."
Pushing Up the Sky: Seven Native American Plays for Children by Joseph Bruchac
(Suggested for grades 4–5)

Native American stories in play form, which opens the door to interactive learning and greater empathy.
Ancestor Approved: Intertribal Stories for Kids by Cynthia Leitich Smith
(Suggested for grades 5–6)

Smith described the collection of stories as a "sampling of the many rising Indigenous voices who are changing children's literature for the better."
The One Thing You'd Save by Linda Sue Park
(Suggested for grades 6–7)

The question "if your home were on fire, what would be the one thing you would save?" is answered in poetic verse. The New York Times states "We don't need a great blazing tragedy to determine what we hold most precious in our lives; we can define what's vital through our thoughts and memories, always at hand, in our heads and hearts — safe, where the flames don't reach."
PRE K–EARLY ELEMENTARY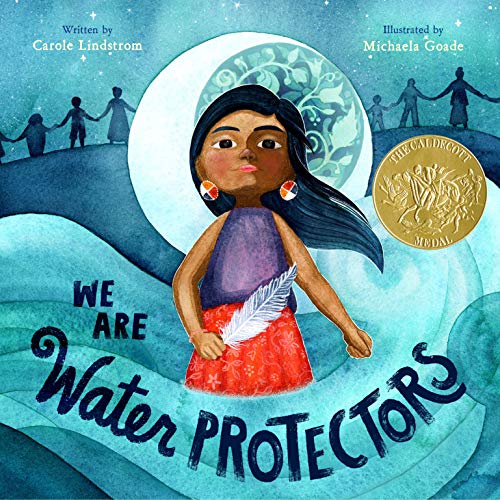 We are Water Protectors by Carole Lindstrom
(Suggested for grades Pre K–K)

Winner of the 2021 Caldecott Medal. Romper.com states about this picture book: "This book celebrates indigenous-led movements to protect our planet's water. With gorgeous illustrations, it gives readers a sense of our connectivity."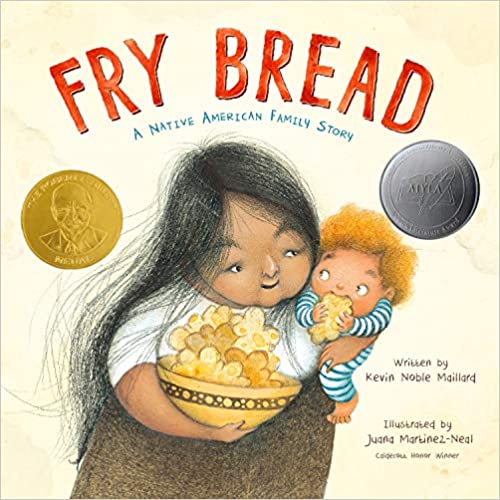 Fry Bread: A Native American Family Story by Kevin Noble Maillard
(Suggested for grades pre K–1)

Named Best Book of 2019 by School Library Journal, the Chicago Public Library, National Public Radio (NPR), and multiple other awards. The New York Times Book Review calls it "A wonderful and sweet book [that] takes a staple food of many tribes across the country and uses it to think about family, history, memory and community…Lovely stuff."
Grandmother's Dreamcatcher by Becky Ray McCain
(Suggested for grades K–2)

A 2001 Parents' Choice Paperback Recommended Winner. Publisher's Weekly states: "A Chippewa girl's bad dreams are kept at bay by a dreamcatcher in this straightforward story. The paintings convincingly convey tenderness among the family members, as well as the narrator's anxiety."
Daniel Finds a Poem by Micha Archer
(Suggested for grades K–3)

Daniel discovers what poetry is with the help of wildlife and his local environment, just in time for a poetry contest in the park. Kirkus Reviews states "Archer reminds readers that poetry exists all around us. A vividly illustrated, inventively told opportunity for early readers to grasp the power of language to observe, entertain, and mystify."
Thirteen Moons on Turtle's Back: A Native American Year of Moons by Joseph Bruchac
(All ages)

A Notable Children's Trade Book in the Language Arts. Abookandahug.com states "Each moon in Native American tradition has a name so as the months go by the moon's identity is described in new words and with a new appreciation. Poetry and the natural world offer a sense of heritage, a sense of deeper belonging and an invitation to see the wonder all around us. Mother Nature and her moon shine brightly."
For a Girl Becoming by Joy Harjo
(All ages)

Silver Medal, Moonbeam Children's Book Awards, Multicultural Picture Book. Author and illustrator Debra Frasier says "This is a blessing to bestow… With Joy Harjo's words, 'As you travel with us,' the road opens, and the journey promises to be lined with help—and love."