Anne D'Urso-Rose, Co-Facilitator
Anne D'Urso-Rose – Associate Director, Malden Access Television (MATV) Aside from being Associate Director at MATV, where she has worked for over 26 years, Anne D'Urso-Rose is a Trustee of the Malden Public Library. Working on the Malden Reads project allows her use her skills in community-building while sharing her passion for reading and literature.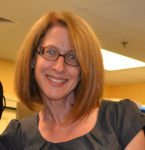 Anne D'Urso-Rose
Jodie Zalk, Co-Facilitator
Jodie Zalk – M.P.P., Community Education Activist As one of Malden Reads' co-founders and co-facilitators, Jodie brings more than 15 years experience as an administrator in education and working with youth. She brings leadership expertise to the program and is delighted to see how the Malden Reads program has taken root in the community — the connections made among Maldonians; to city resources including the schools; to our books and films, programs and other events.

Jodie Zalk
Karen Buck – Malden Resident
Karen Buck has enjoyed being part of Malden Reads for the past few years. She says, "This has been a terrific way to connect with the community and partake in reading wonderful books with coordinated events. Malden Reads is a great source of energy!" Karen Buck's family moved to Malden in 2004 from Cambridge, MA. Her children are in the Malden Public Schools.
Sue Carr
Although Sue recently moved to the Cape, we wish to acknowledge her contributions to the program since 2013. She has helped with book selection, planning, publicity, and volunteer coordination at events. She writes, "Participating in Malden Reads was a fun way to become an active member of our community." We will miss you, Sue, and hope you will continue to participate in the program from afar!

Marie Coulanges
Nothing excites Marie Coulanges more than finding ways to bridge cultures and to bring the community together. Marie has served on the MATV Board of Directors and has been involved in many community events and initiatives throughout the years. She lives in Malden with her two adult sons.
Eda Daniel – Community Activist & Supporter
Eda loves creating excitement around learning and reading. Having worked with international students and lived among different cultures, there is a natural connection between Eda's values and Malden Reads. Eda has been involved with Malden Reads since the first year and, even though she has recently moved to another state, she continues to provide her energy and ideas electronically!
Mei Hung – Executive Director, Chinese Culture Connection
Mei Hung is the Executive Director of the Chinese Culture Connection, founded in 1985. She is dedicated to education, lifelong learning and bridging cultures. The Chinese Culture Connection has been a collaborative partner with Malden Reads since the first year of the program, through the "East Meets West" film screenings, activities for youth and more.
Nekita Lamour
Nekita is an educator and a facilitator of community-driven expanded learning opportunities. She has given seminars on Haitian culture, language and history. She is a writer and storyteller and is interested in ways to bring people together, which makes her a perfect fit for the Malden Reads program. Nekita is helping Malden Reads to offer multi-lingual book discussions.
Rebecca Smith – Children's Librarian, Malden Public Library
Children's Librarian, Malden Public Library After more than 11 years in adult publishing, Rebecca Smith realized that becoming a children's librarian would enable her to combine her love of books, information, and children with her desire to serve the public and enrich people's lives.For more than eight years, she has had the pleasure of serving the wonderfully diverse community of Malden (where, coincidentally, she found her first post-college apartment–just two blocks from the library). A true believer in the power of libraries and books to build community, Rebecca is delighted to be a part of Malden Reads.
Other Members: Karen Lynch, Julie McGee, Elena Martinez