Companion Books for 2023
Malden Reads is pleased to offer a wide variety of companion books for young readers, all of which complement the 2023 adult book choice, They Called Us Enemy by George Takai.
They Called Us Enemy is Takei's firsthand account of those years behind barbed wire, the joys and terrors of growing up under legalized racism, his mother's hard choices, his father's faith in democracy, and the way those experiences planted the seeds for his astonishing future.
Fiction
Paper Wishes by Lois Sepahban (2016) (181 pages) Sepahban's spare, lyrical prose draws you into this story of a Japanese-American family herded off to an internment camp during WWII, and their struggle with loss, their strength and their survival, is centered upon the character of the youngest family member: 10-year-old Manami. Manami's parents and grandfather are loving and supportive but traditional. They do not share their fears or discuss the war, the hateful policy of internment, or its deep negative effects with Manami. Within the family there is silence, and without there is the silence of the looming, spreading desert where the camp lies. But the silence that weighs the most upon Manami is the missing voice of Yujiin, the beloved dog she was forced to leave behind when they were "evacuated". (Grades 4–6)
Displacement by Kiku Hughes (2020) Kiku is on vacation in San Francisco when suddenly she finds herself displaced to the 1940s Japanese-American internment camp that her late grandmother, Ernestina, was forcibly relocated to during World War II.
These displacements keep occurring until Kiku finds herself "stuck" back in time. Living alongside her young grandmother and other Japanese-American citizens in internment camps, Kiku gets the education she never received in history class. She witnesses the lives of Japanese-Americans who were denied their civil liberties and suffered greatly, but managed to cultivate community and commit acts of resistance in order to survive. (Grades 7–9)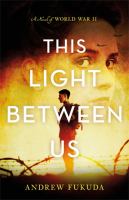 This Light Between Us by Andrew Fukuda (2021) In 1935, ten-year-old Alex Maki from Bainbridge Island, Washington is disgusted when he's forced to become pen pals with Charlie Lévy of Paris, France―a girl. He thought she was a boy. In spite of Alex's reluctance, their letters continue to fly across the Atlantic―and along with them, the shared hopes and dreams of friendship. Until the Japanese attack on Pearl Harbor and the growing Nazi persecution of Jews force them to confront the darkest aspects of human nature. From the desolation of an internment camp on the plains of Manzanar to the horrors of Auschwitz and the devastation of European battlefields, the only thing they can hold onto are the memories of their letters. But nothing can dispel the light between them. (Grades 7–9)
We Are Not Free by Traci Chee (2020) Fourteen teens form a bond growing up together in California. They go to school, work hard to be good kids in their community, and try their best to find happiness in various hobbies. American-born, they are of Japanese descent, and surrounded by people who do not trust their right to be in the U.S. World War II turns their already strained lives upside down. Taken and forced into desolate internment camps, these young kids must rally together as racism threatens to tear them apart. (Grades 7 and up)
Non-Fiction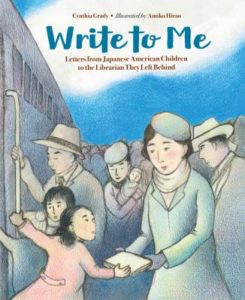 Write to Me: Letters from Japanese American Children to the Librarian They Left Behind by Cynthia Grady (2018) "A touching story about Japanese American children who corresponded with their beloved librarian while they were imprisoned in World War II internment camps. When Executive Order 9066 is enacted after the attack at Pearl Harbor, children's librarian Clara Breed's young Japanese American patrons are to be sent to prison camp. Before they are moved, Breed asks the children to write her letters and gives them books to take with them. Through the three years of their internment, the children correspond with Miss Breed, sharing their stories, providing feedback on books, and creating a record of their experiences. (Pre-K–Grade 3)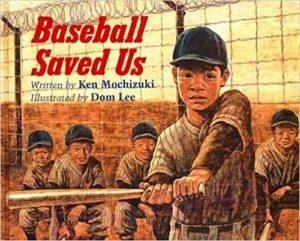 Baseball Saved Us by Ken Mochizuki (1993) "Shorty" and his family, along with thousands of other Japanese Americans, have been forced to relocate from their homes to a "camp" after the attack on Pearl Harbor, Hawaii. Fighting the heat, dust, and freezing cold nights of the desert, Shorty and the others at the camp need something to look forward to, even if only for nine innings. So they build a playing field, and in this unlikely place, a baseball league is formed. Surrounded by barbed-wire fences and guards in towers, Shorty soon finds that he is playing not only to win, but to gain dignity and self-respect as well. (Grades K–3)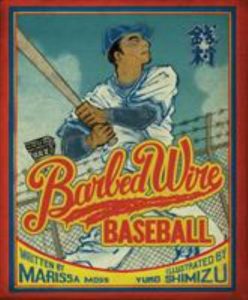 Barbed Wire Baseball by Marissa Moss (2013) Traces the childhood dream of Japanese-American baseball pioneer Kenichi Zenimura of playing professionally and his family's struggles in a World War II internment camp where he introduces baseball to raise hope. (Grades 1–4)

Remembering Manzanar: Life in a Japanese Relocation Camp by Michael L. Cooper (2002) Uses firsthand accounts, oral histories, and essays from school newspapers and yearbooks to tell the story of the Japanese Americans who were sent to live in government-run internments camps during World War II. (Grades 2–9)
Days of Infamy by Lawrence Goldstone (2022) In 1944 the US Supreme Court ruled, in Korematsu v. United States, that the forcible deportation and detention of Japanese Americans on the basis of race was a "military necessity." Today it is widely considered one of the worst Supreme Court decisions of all time. But Korematsu was not an isolated event. In fact, the Court's racist ruling was the result of a deep-seated anti-Japanese, anti-Asian sentiment running all the way back to the California Gold Rush of the mid-1800s. Starting from this pivotal moment, Constitutional law scholar Lawrence Goldstone will take young readers through the key events of the 19th and 20th centuries leading up to the fundamental injustice of Japanese American internment. Tracing the history of Japanese immigration to America and the growing fear whites had of losing power, Goldstone will raise deeply resonant questions of what makes an American an American, and what it means for the Supreme Court to stand as the "people's" branch of government. (Grades 7–9)
Imprisoned: The Betrayal of Japanese Americans during World War II (2020) While Americans fought for freedom and democracy abroad, fear and suspicion towards Japanese Americans swept the country after Japan's sneak attack on Pearl Harbor. Culling information from extensive, previously unpublished interviews and oral histories with Japanese American survivors of internment camps, Martin W. Sandler gives an in-depth account of their lives before, during their imprisonment, and after their release. (Grades 7–10)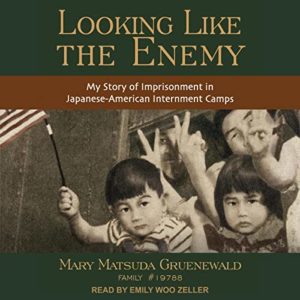 Looking Like the Enemy by Mary Matusda Gruenewalk (2005). Mary Matsuda is a typical 16-year-old girl living on Vashon Island, Washington with her family. On December 7, 1942, the Japanese bomb Pearl Harbor, and Mary's life changes forever. Mary and her brother, Yoneichi, are U.S. citizens, but they are imprisoned, along with their parents, in a Japanese-American internment camp. The author tells her story with the passion and spirit of a girl trying to make sense of this terrible injustice to her and her family. Mary captures the emotional and psychological essence of what it was like to grow up in the midst of this profound dislocation, questioning her Japanese and her American heritage. Few other books on this subject come close to the emotional power, raw honesty, and moral significance of this memoir. This personal story provides a touchstone for the young student learning about World War II and this difficult chapter in U.S. history. (Grades 5–9).