Malden Reads Story Time Successful Summer and Beyond!
Malden Reads established new collaborations this summer to bring stories to life. Linda Zalk, former Malden School Educator/Simmons University's Adjunct Faculty, and Elena Martinez, Graphic Designer/Yoga teacher, took the weekly themes from Malden Arts Monday to create Malden Reads Story Time. They presented the stories with a rich educational curriculum including social emotional learning and sensory experiences to enhance development of visual, auditory and kinesthetic intelligences which support academic learning.
The social distancing experience inspired Linda to write an original story that teaches kids the importance of wearing a mask. The story was produced in a little booklet format and distributed to local daycares and Malden Public library.
Retelling of
Horton Hears A Who!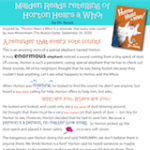 Malden Reads RETELLING OF HORTON HEARS A WHO!
by Dr. Seuss, inspired by "'Horton Hears a Who!' is a reminder that every vote counts" by Joan Wickersham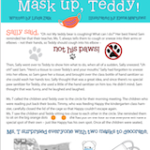 MASK UP TEDDY! by Linda Zalk
HAPPY THE CLASS HAMSTER by Linda Zalk
What Is a Mystery? — A puzzling or secret quality; something not understood