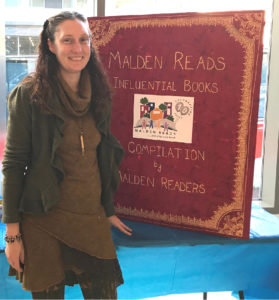 Karyn Alzayer, creator of the Influential Books project launched in 2020.
Community members will have the opportunity to add the titles & authors of the books that have most influenced them.
Details TBA
Like the lighting of the Olympic torch, delivering the book to city hall will signify the start of the 2021 Malden Reads season!
Book arrives to Malden City Hall
Our 2021 program will officially kick off with a socially-distanced procession from the Malden Public Library on Salem Street, on to UMA-Urban Media Arts on Pleasant Street, and then on to our new City Hall at 215 Pleasant St. where we will present the Book of Inspirational Books to Mayor Gary Christenson to showcase in the City Hall front window.
The procession, which will include a festooned truck, is a symbolic parade in the time of Covid, connecting our anchor institutions and reinforcing the importance of reading at the core of the program.