They Called Us Enemy
by George Takei
As the world and our community adjusts to living in this new stage that some are calling "post-pandemic," Malden Reads reminds us that internal growth and reflection are impervious to the shifting winds of external forces. Our personal stories continue despite and because of those forces that give it form. Our stories become part of the unfolding story on the world stage. Sharing our personal human stories is what connects us and books continue to be a reliable (and safe) source of sharing. Reading broadens our world view, fuels our imagination and helps develop the empathy needed to heal our world.
With those truths in mind, Malden Reads is proud to announce our 2023 book selection, They Called Us Enemy by George Takei. This book is a new format for us; Malden Reads has never done a graphic novel (or memoir, as this is).
They Called Us Enemy is a 2019 graphic memoir written by author, actor, and activist George Takei and illustrated by Harmony Becker. The story chronicles Takei's childhood experience in the Japanese internment camps in America during World War II. Takei frames the narrative with a modern-day talk he gives at the home of President Franklin D. Roosevelt, who presided over the country during the internment period. During the talk, Takei tells his family's story while examining the conflict between his faith in American democracy and the terrible decision to create the internment camps.
We hope you will head over to our local library (or reserve ahead online) and check out a copy of They Called Us Enemy. You can also purchase copies of the book at these locations. Read the book, share it with others, think about it, talk about it and take part in any of our upcoming (in-person and remote) programs that further the discussion and enrich the experience of this powerful story by George Takei, beautifully presented through words and graphic illustrations.
If the graphic format is unfamiliar to you, we hope you'll enjoy this new type of reading experience. Let us know what you think! Write to us at maldenreads@gmail.com, comment on any of our social media sites, or come to an event and share your thoughts and reactions. We look forward to seeing and hearing from you!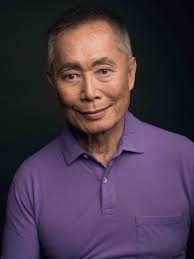 George Takei (/təˈkeɪ/; Japanese: ジョージ・タケイ; born Hosato Takei (武井 穂郷), April 20, 1937) is an American actor, author and activist known for his role as Hikaru Sulu, helmsman of the fictional starship USS Enterprise in the television series Star Trek and subsequent films.[1][2]
Takei was born to Japanese American parents, with whom he lived in U.S.-run internment camps during World War II. He began pursuing acting in college, which led in 1965 to the role of Sulu, to which he returned periodically into the 1990s. Upon coming out as gay in 2005, he became a prominent proponent of LGBT rights and active in state and local politics. He has been a vocal advocate of the rights of immigrants, in part through his work on the 2012 Broadway show Allegiance, about the internment experience.[3][4]
Although Takei was born and raised in California, he spoke both English and Japanese growing up and remains fluent in both languages.[5][6] He has won several awards and accolades for his work on human rights and Japan–United States relations, including his work with the Japanese American National Museum in Los Angeles, California.
"That remains part of the problem—that we don't know the unpleasant aspects of American history…and therefore we don't learn the lesson those chapters have to teach us. So we repeat them over and over again."
—George Takei, They Called Us Enemy
Join us this upcoming season as we explore both our history and the world of graphic novels.